Well...I didn't get to my post the next day!  But I'm writing now:)  Friday after class I went home for an ortho appointment and went shopping with my mom.  It was nice to get to spend some time with her and sleep in my own bed!  I headed back down to Greenville on Saturday for dinner with David and then we headed back to Clemson for a fun-filled night with Jake, Jess, and her brother and his girlfriend!  We played a game called Quelf.  This is what it looks like: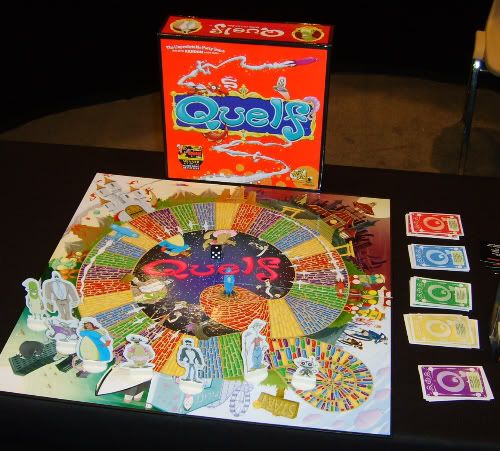 It was the first time I had played the game and I really enjoyed it!  You definitely have to have a lot of people to play for it to be fun!  On Sunday, Jessica, Jake, David and I left early for Atlanta.  We were going to see the Body Exhibit at Atlantic Station.  My cousin Scott goes to school at Georgia Tech and he wanted to join us, so when we pulled into Atlanta, we swung by and picked him up!  Now a little explanation is due for those of you who know what the weather was like from Atlanta to Clemson on Sunday!  We had pre-bought our exhibit tickets and didn't want the money to go to waste.  When we bought the tickets, the weather wasn't supposed to be bad and it was supposed to be the last week for the exhibit.  Later in the week, we heard a few comments here and there about snow over the weekend...but it wasn't supposed to hit until late in the evening!  We decided to go to Atlanta anyway, assuming we would make it back before the storm hit.  Boy were we wrong.  It rained the whole entire way to Atlanta and just as we were pulling into the city lines, it started snowing.  And I mean SNOWING.  It was like a blizzard with HUGE snowflakes about an inch in diameter and it was thundering and lightning!  Apparently that is called a "thundersnow".  How interesting!  We picked up Scott and grabbed a quick bite to eat at California Pizza Kitchen.  Here is a picture of me and David at lunch!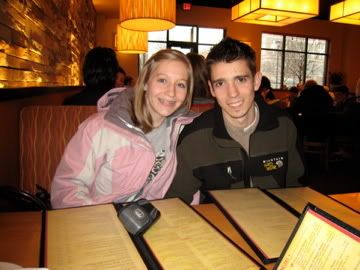 After lunch we headed next door to see the Body Exhibit.  Wow was that a cool experience!  We weren't allowed to take pictures, otherwise I would have a whole album for you!  They had all of these human bodies that they have preserved in a special way in order to show off different parts of the body.  They focused a lot on the muscle groups and how they worked together with the rest of the body.  One really interesting portion of the exhibit was the fetus exhibit.  They had fetuses that were 4, 5, 6, 7, 8, and 9 weeks old.  At 5 weeks, the fetus was about a centimeter long, but you could visibly see where the arms and legs were forming....SO COOL!
When we finished walking through the exhibit, we figured we should head on back to Clemson because by that point, it had been snowing buckets for about 3 hours and showed no sign of stopping!  And it's a good thing we left when we did!  It took us 7 HOURS to get home!  Basically the snowstorm came in much quicker than anyone could predict and we followed it home!  It snowed the whole way home and of course we got into a lot of traffic because the roads were terrible.  This picture hardly does the weather any justice at all!  It only got worse after this.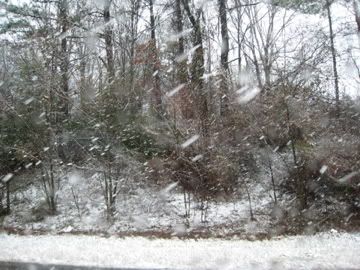 We arrived back in Clemson around 9:00 pm and were SO happy to be able to get out of the car!  
Luckily for us, school was canceled on Monday and morning classes on Tuesday.  What a nice break:)  Now it's back to work...and catching up on some reading for a test on Thursday!  I hope this post finds you all well and have a wonderful week!